Submitted by

siteadmin

on Wed, 02/23/2011 - 20:53
This January we had the opportunity to bring our barge winch monitoring system to Port Harcourt, Nigeria in support of a local oil and gas services company based there. The Gulf of Guinea is one of the hot new oil patches and it is becoming as criss-crossed with sub-sea pipes as any ocean in the world.   Oil companies operating there have to be very careful about where they place their anchors for mooring.  And, they need to know immediately if one of their anchors is slipping and could potentially pull through other nearby pipelines.  Hence their call to us.  We have a growing reputation across the globe for building high-quality, rugged, anchor winch monitoring equipment. For this barge, we installed nine, RL-20175K running line tensiometers and four local dual-winch displays.  Four winches aft and four winches foward, the ninth RLT was for the A&R winch near the bow of the barge. Here is an image of an RLT getting ready to be installed in front of a winch. The hanging chain support allows the RLT to move with the rope as tension increases and decreases during an operation.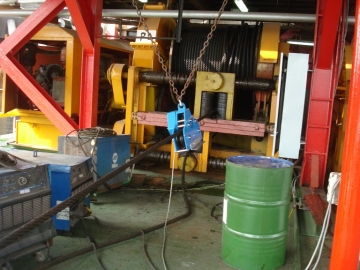 Running Line Tensiometer
Here is an image of the winches on the barge.  These winches have 1-3/4" IWRC wire rope that will be tensioned up to 90,000lbs.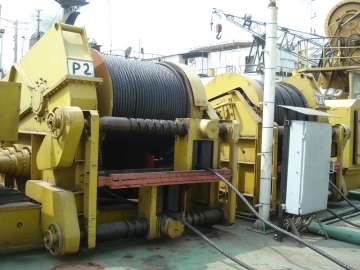 Winches on the barge
We integrated our LCI-90i Multi-Winch displays to their existing winch controls station. The LCI-90i Winch Displays provide precise tension, speed, and payout readings to the operator as well as preset alarm conditions to alert the crew of a hazardous operating condition. The PC monitors are used as video monitors of the winches and the deck of the barge.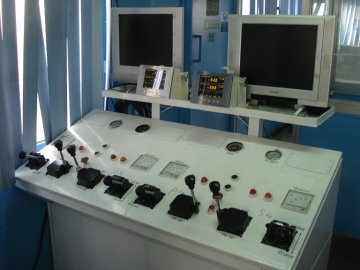 Winch controls station
We look forward to spending more time in Port Harcourt and developing partnerships in that beautiful part of the world.