Winch Controls / PLC Programming
Solutions: Winch Control
Solutions: Winch Control
Rugged Controls is a global leader in the development of winch monitoring and control systems for offshore rigs and related support vessels. We specialize in all types of PLC products and HMI interface systems creating the connection between deck equipment, vessel operations, and remote monitoring. Our control systems provide the reliability and increased safety demanded by offshore and marine operations.
From simple local pendant controls to local control panels with remote I/O linked to a central control room via a fiber optic link with a touch screen HMI, Rugged Controls can provide complete control solutions.
Winch Control Capabilities
• PLC and software solutions
• Supervisor control and data acquisition systems
• Safety and shutdown systems
• Touch screen HMI's
• Real-time data monitoring
• Alarms – audible/visual
• Data logging – historical, post operation analysis, trending
• Off-site monitoring
• UL Certified Panel Shop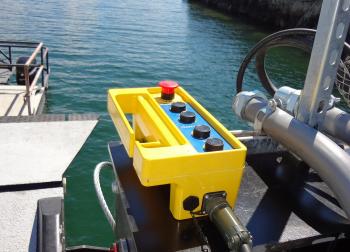 New winch controls for the Keller Ferry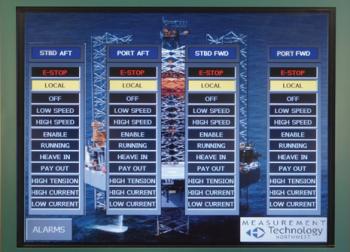 Rugged Controls has upgraded the winch controls and monitoring system for several Rowan jack-ups using a PLC and HMI approach.