Submitted by

siteadmin

on Thu, 07/15/2010 - 19:06
One of our leading partners, DynaWinch, out of Calgary, Alberta, has been working with the MTNW LCI-90i display for years to bring decimal point accuracy to their arsenal of down-hole tools and applications. Recently, DynaWinch has incorporated our displays (both the LCI-90i and the LCI-80) into their new product line of slickline skid units. They now manufacture electrically, hydraulically, and diesel driven skid based units for all types of environments and needs. Their product line includes aluminum wireline van bodies for slickline, case hole, and open hole logging, mast units, swabbing rigs, and wireline skids for on-shore and off-shore applications. And, their wireline accessories include hydraulic drawworks packages, customized control panels, measuring systems, spoolers, and down hole tools.
The picture below shows Tom Rezanka, SVP of MTNW's LCI product line, sitting at the controls of a DynaWinch wireline van built for one of their customers. Notice the beautiful display immediately in front of Tom. If Tom were an operator, that display would provide him with line tension, speed, and payout information through its electroluminescent (day-light readable screen) at line data sampling rates of over 200Hz! The display will also provide the operator with the ability to store up to 14 different tension and payout calibrations with automatic recall. Michael Fernquist, Technical Project Manager for DynaWinch, explains to Tom how the operators use the controls and display information in their job.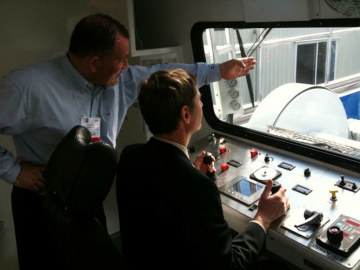 Here is a picture of the MTNW 90i display incorporated into a an electrically driven wireline skid unit. You can see that our displays are built for rugged, all-weather conditions. If you thought our electroluminescent displays look good in the sun, you should see them in the rain!