Submitted by

siteadmin

on Fri, 11/27/2009 - 19:24
Based in Ventura, CA, Coordinated Wire Rope (http://www.coordinatedcompanies.com) approached us for a project that required highly accurate measurement of line tension and payout on an underground cable pulling application for their customer, CD Lyon. CD Lyon had been tasked with pigging (looking for obstacles) and slip-lining (inserting a new pipe into an old pipe) an old 8 mile natural gas pipe, and they were looking for solutions that would make the project run smoothly and efficiently. CD Lyon planned to use a 5/8" wire rope to pull the pipe pig and new pipe slipline. They needed to measure up to 14,000lbs of tension, which is load at which the pipe lining may be damaged. This wire rope size and tension range was a perfect fit for our compact HRT-3MM tensiometer (dynamometer). We paired this tensiometer with our LCI-90 display, which was housed in a portable and rugged Pelican case. In the photo below you can see that Coordinated Wire Rope and NTT Fabrication built a custom winch skid, on which they mounted the Pelican case and LCI-90 display. You can see the LCI-90 and case immediately to the left of the controls for the winch.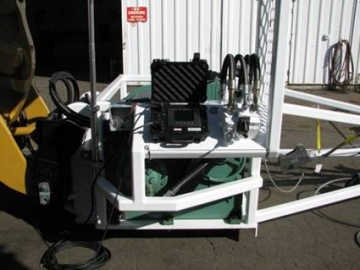 The photo below shows how the HRT-3MM tensiometer rides the cable it is monitoring. NTT Fabrication built an articulated arm which allows for lateral movement of the tensiometer (tracking line as the winch spools) and also supports the device in the case of a slack line situation.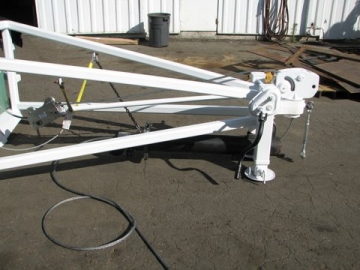 MTNW's solution provided an inexpensive and portable line monitoring system without the need for winch modifications. We pre-calibrated the system before it was sent it out, and Coordinated Wire Rope found that their new LCI-90 + HRT-3MM cable monitoring system was not only easy and intuitive to work with, it worked from the moment they pulled it out of the box.